Lima - On the International Day Against Child Labour, this 12th of June, the Ministries of Labour, employers and workers organizations, of Latin America and the Caribbean commit to accelerate efforts to eradicate child labour in the region.
This commitment reaffirms the goal of achieving the first generation free of child labour. In this regard, high-level representatives have committed to implementing Country Acceleration Plans, which promote the coordination between high-impact public and private programs and services with the aim of breaking the cycle that leads to child labour.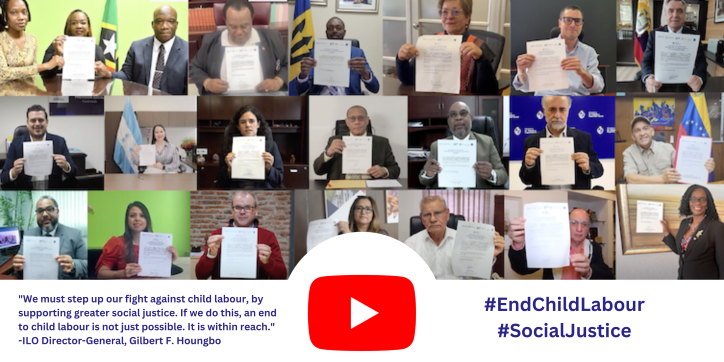 In Latin America and the Caribbean, it is estimated that more than 8 million children and adolescents are in situations of child labour, of which 5.5 million are engaged in hazardous work. These figures reinforce the importance of taking urgent and effective measures to protect the rights of children and eradicate child labour in all its forms.

Claudia Coenjaerts, Regional Director of the ILO for Latin America and the Caribbean, highlighted the need to accelerate efforts in social justice, stating that "every child who works is a reminder that there is still much to be done, and that it is urgent to advance social justice. The region has made significant progress, let us redouble our efforts to make the eradication of child labour in the region a reality. At the current pace, it is estimated that it would take more than 25 years to completely eradicate this problem".

This commitment is part of the efforts aimed at fulfilling the objectives established in the Durban Call to Action and accelerating the progress of multiple stakeholders in the prevention and elimination of child labour, with a priority on the worst forms of child labour and the promotion of decent work for adults and adolescents who reach the minimum age for employment.

The Regional Initiative for Latin America and the Caribbean Free of Child Labour is an alliance of 31 countries that work in an articulated and tripartite manner to achieve the first generation of people free from child labour in the region.

Currently, the Regional Initiative is composed of: Antigua and Barbuda, Argentina, Bahamas, Barbados, Belize, Bolivia, Brazil, Chile, Colombia, Costa Rica, Cuba, Ecuador, El Salvador, Grenada, Guatemala, Guyana, Haiti, Honduras, Jamaica, Mexico, Nicaragua, Panama, Paraguay, Peru, Dominican Republic, Saint Kitts and Nevis, Saint Lucia, Suriname, Trinidad and Tobago, Uruguay, and Venezuela; together with the International Employers Organization (IEO) and the Trade Union Confederation of the Americas (TUCA-CSA).

The Regional Initiative Latin America and the Caribbean Free of Child Labour operates with the technical assistance of the ILO and the sustained support of its partners, the Spanish Agency for International Development Cooperation (AECID), the Andalusian Agency of International Cooperation for Development (AACID), the Brazilian Cooperation Agency (ABC), and the United States Department of Labor (USDOL).
Source: https://www.ilo.org/americas/sala-de-prensa/WCMS_884867/lang--en/index.htm