Applications are now closed.
If you wish to register to attend the 2017 Champion Employer of the Year Award Ceremony and Cocktails, please Click Here.
Do you want to win an all-inclusive trip to the world class Spice Island Beach Resort in Grenada? Then send us your submission for our 2017 Employer's Voice Competition.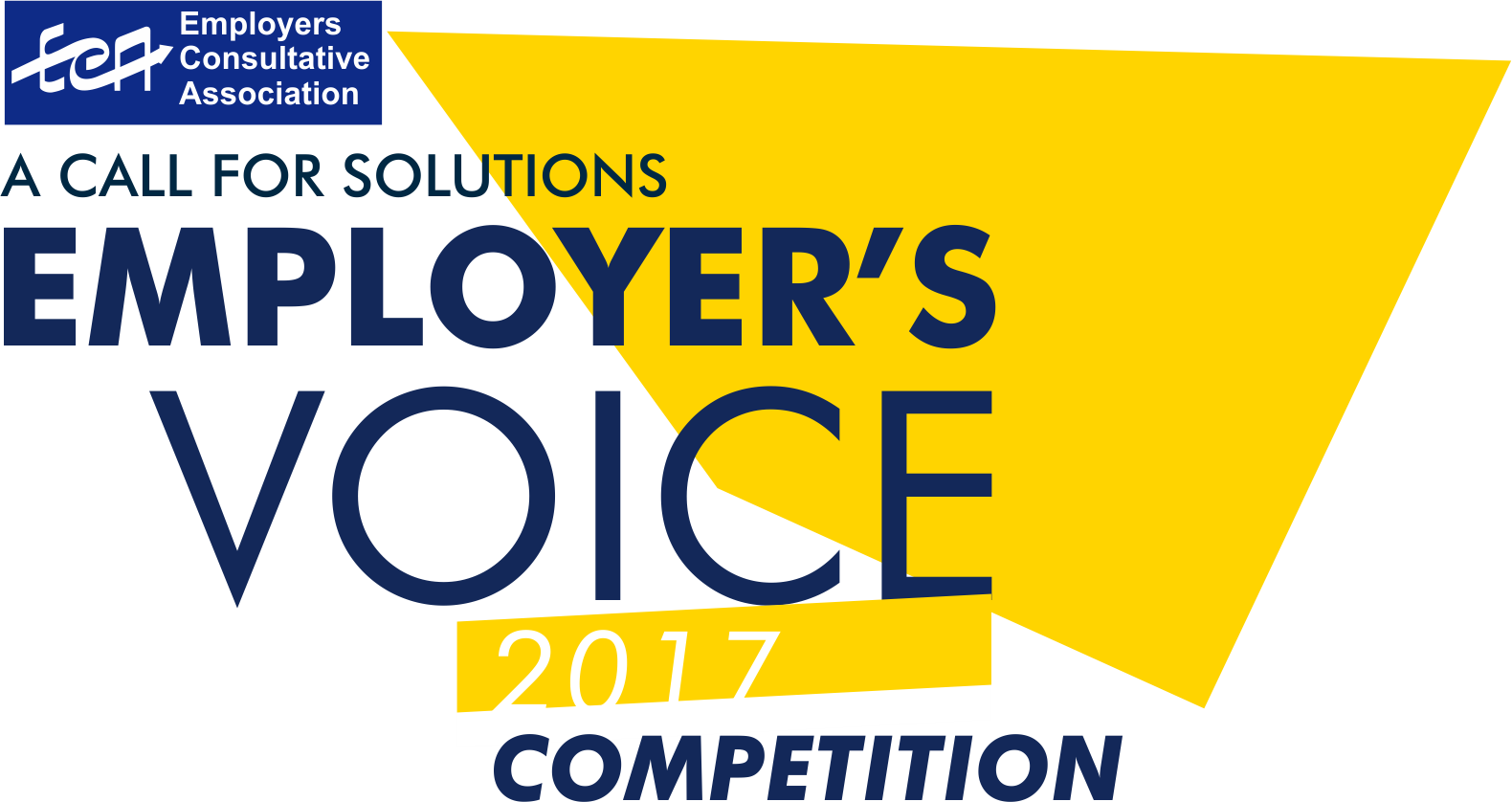 ABOUT EMPLOYER'S VOICE
The ECA's 2017 Employer's Voice Competition is aimed at member companies of the ECA who have creative ideas and solutions for some of the most pressing issues affecting businesses and society in Trinidad and Tobago.
Submissions will be focused around five (5) primary categories, each with suggested topics, and will be analysed by a panel of industry professionals.
A winner will be announced on the night of the 2017 Champion Employer Awards Ceremony and Cocktail event on Friday May 12, 2017, 7:00 p.m., at the Hyatt Regency.
ELIGIBILITY QUALIFICATIONS
This competition is open to all members of the Employers Consultative Association of Trinidad and Tobago
In order to confirm your participation, please send a letter of intent to

This email address is being protected from spambots. You need JavaScript enabled to view it.

with the following information:

Email subject: Employer's Voice Competition
Company name
Selected area/topic

Employees from companies of the ECA's Chairman, Immediate Past Chairman and Vice Chairman are not eligible to enter
Family members of employees of the Employers Consultative Association of Trinidad and Tobago are not eligible to enter
RULES
In order to be considered for adjudication, participating companies must purchase one (1) ticket per entry and attend the ECA's Champion Employer of the Year Awards and Cocktails, to be held on Friday May 12, 2017. You can do so by Registering Here.
There is no limit on the number of submissions per company
The theme of the submission must relate to one of the identified categories/topics
Submissions will be accepted until 8:00 p.m. on May 5, 2017 and should be no longer than 1500 words, exclusive of direct quotations, citations, tables and charts
A copy of the abstract must be submitted as a separate document and should not exceed 200 words. This will be used by the panel to make pre-selections
Submissions must be typed and double spaced on one side of each sheet of paper. Font size should be 12-point Arial or Times New Roman
All submissions must be written in English
Quotations and references must be clearly marked and properly cited using an appropriate Referencing system (e.g. Harvard, MLA, APA etc.)
Submissions are accepted via hardcopies (in triplicate) or electronically in .doc or .pdf formats. These should be submitted to

This email address is being protected from spambots. You need JavaScript enabled to view it.

The ECA reserves the right to publish and/or make available to the public the winning submission in part or in its entirety
The decision of the panel is final and is not subject to appeal
JUDGING CRITERIA (100 POINTS)
Demonstrates an understanding of the concept and problem area(s) 20 POINTS
Builds a persuasive argument in support of their conclusion(s)/recommendation(s) 30 POINTS
Proposes tangible reform programmes 40 POINTS
Displays a strong command of written English 10 POINTS
Consideration will be given to submissions that specifically address how any or all of the Tripartite partners (Government, Business, Labour) can contribute to or play a role in achieving identifiable objectives.
Along with your submission, please attach a Proof of Employment
PRIZE
The winner of the Employer's Voice competition will be awarded with a trip for two (2) to the world renowned Spice Island Beach Resort in Grenada. This package includes:
Airfare (up to a value of $4,000.00TT)
Accommodation for 3 nights
Private pool
All Meals (breakfast/lunch/dinner) and Drinks included 
The winner will also get the opportunity to make a ten (10) minute presentation to the Board of Directors of the Employers Consultative Association of Trinidad and Tobago
SUBMISSION CATEGORIES
Industrial Relations
Topic: Improving industrial relations in Trinidad and Tobago
Topic: What does the future of work look like for Trinidad and Tobago? How can social partners prepare for or facilitate this future?
Finance and Economy
Topic: Addressing the Foreign Exchange Conundrum in Trinidad and Tobago
Topic: Practical solutions for achieving the diversification agenda
Topic: Recommendations and implementation of a pro-growth economic strategy that is effective and appealing to social partners
Social Development
Topic: Innovative solutions to promote decent work among young people in Trinidad and Tobago
Topic: A case for more Women in Leadership
Tourism
Topic: Strategies and solutions for tourism development in T&T
Topic: A vision for tourism in the Caribbean
Sustainable Development Goals
Topic: Creative ideas for the achievement of (one or more) sustainable development goals (SDGs) by 2030 (Click Here to Learn More about the SDG's)
INQUIRIES 
For further inquiries, please contact:
Antonette Brotherson-Brusco
Team Lead, Membership and Events
675-9388 ext. 226
Email: This email address is being protected from spambots. You need JavaScript enabled to view it.
Amanda Francis
Project Assistant, Membership and Events
675-9388 ext. 228
Email: This email address is being protected from spambots. You need JavaScript enabled to view it.